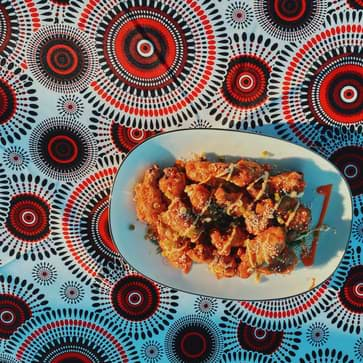 This recipe is too good not to share! It's a firm family favorite and just about the most delicious snack you have ever eaten, perfect for a pre-braai snack or devoured as a meal, they are are more-ish and super easy!
This recipe serves 4
You'll Need
1.2 kg of chicken drumettes (the wing that has the little tail cut off, i.e the winglet) 
2 cups of potato flour (available at any Asian grocery store)
salt, pepper, chicken spice
1.5 cups of oil, enough for deep frying in a pan
Teriyaki sauce (available at most stores, but definitely an Asian grocery shop)
Kewpie Mayo (Japanese mayo - also an Asian grocery shop)
Siracha mayo (woolworths stocks this)
bunch of chives, chopped
50 g sesame seeds
Instructions
Step 01: Season the potato starch with salt, pepper and if  you have some chicken spice. (if you like a bite, add chilli flakes)

Step 02: Toss the little winglets in the flour to coat them.

Step 03: Heat oil in frying pan, about 1/4 way up the pan.
Step 04: Fry the winglets for 2-4 minutes on each side, until nicely golden brown.
Step 05: Remove the winglets with a slotted spoon, to allow for the dripping, and place onto an absorbent kitchen towel, to remove excess oil.
Step 06: The winglets will be crispy, place on a platter, and squeeze over the three sauces, Teriyaki, cupi mayo and Sirracha mayo, sprinkle over the sesame seeds and chives 
Step 07: Serve on your beautiful My Table table cloth and enjoy! You can shop the entire range here.